Scritto da Cristiano Toni
Lo aveva affermato Spiegel nel 2017 e ce l'ha confermato Altroconsumo a fine novembre 2020: il 95% dei consumatori legge le recensioni online prima di prendere una decisione di acquisto, ma soltanto 1 italiano su 3 dice di esserne veramente condizionato. Sarà vero? Due ricerche provano a fare chiarezza.
Recensioni negative: anche una può essere di troppo purché sia vera
Quanto influisce una singola recensione negativa sul comportamento di ricerca e di acquisto di un consumatore (online)? A questa domanda hanno provato a dare una risposta [1] Marton Varga e Paulo Albuquerque dell'INSEAD, confrontando le scelte fatte da consumatori che:
cercando un prodotto trovano una recensione negativa pubblicata sulla pagina del prodotto stesso;
versus quelle fatte:
quando la stessa recensione è stata 'spostata' in una seconda pagina dove è stata pubblicata insieme ad altre recensioni.
Focalizzando l'attenzione sul dove la recensione appare, piuttosto che sulla sola presenza, la ricerca analizza la correlazione tra le recensioni dei clienti e shock di domanda non osservati. Analizzando tre mesi di dati relativi al flusso di click (circa 230.000 sessioni) di un grande Retail online (presente sul mercato britannico) relativamente a due categorie di prodotto (tecnologia e home&garden) i ricercatori hanno scoperto che una sola recensione negativa (una con 3 o meno stelle su 5) porta a:
un calo medio della probabilità di acquisto del 51,4%,
un aumento nelle ricerche di una soluzione alternativa pari all'11,4%
un aumento del 15,8% del prezzo pagato per un prodotto concorrente sulla stessa piattaforma (se l'acquisto avviene).
Ne deriva che l'elasticità da recensione negativa sulle vendite, per la varietà dei prodotti studiati, presenta nella maggior parte dei casi valori compresi tra il -5% e il -50% a seconda della categoria, con una media complessiva del -18%. Ciò suggerisce che anche una singola recensione negativa può avere un effetto (negativo) sulla domanda di prodotti.
E se questa recensione fosse falsa o unfair?
Premesso che le recensioni negative, poiché spesso percepite come più approfondite, hanno maggior influenza di quelle positive e possono produrre conseguenze negative per il brand o per il prodotto recensito, ci sono tuttavia delle eccezioni.  È il caso delle review che vengono percepite dagli utenti come non corrette o come direbbero gli anglofoni unfair.
Ce lo spiega un'altra ricerca pubblicata a Giugno 2020 su Journal of Marketing [2] (autori: Thomas Allard, Lea H. Dunn and Katherine White) dal titolo Negative Reviews, Positive Impact: Consumer Empathetic Responding to Unfair Word-of-Mouth.
Questo studio documenta come le recensioni negative, quando percepite come ingiuste dagli utenti, possono attivare sentimenti di empatia verso le aziende che hanno subito il torto. Sei studi e quattro esperimenti supplementari forniscono prove ulteriore che tale empatia a favore dell'azienda recensita motiva i consumatori ad un ulteriore sostegno, che si manifesta con il pagamento di prezzi di acquisto più elevati e maggior fedeltà e advocay.
Se recensioni negative reputate ingiuste suscitano naturalmente empatia dei consumatori verso l'azienda o il brand, gli autori (ma anche noi che scriviamo) si chiedono se questa empatia possa essere in qualche modo generata indirettamente dalle aziende recensite nel caso in cui questa non emerga naturalmente (magari per effetto di recensioni negative valutate non poi così unfair dai lettori). Lo studio suggerisce come le aziende ed i suoi marketer possano far crescere questa empatia con:
risposte personalizzate e non standard
utilizzo di contenuti e campagne di marketing in grado di far crescere questa empatia con consumatori o dipendenti come protagonisti.
Esempio di Los Angeles Apparel che nelle etichette delle sue maglie ha inserito facce e descrizioni dei manifatturieri.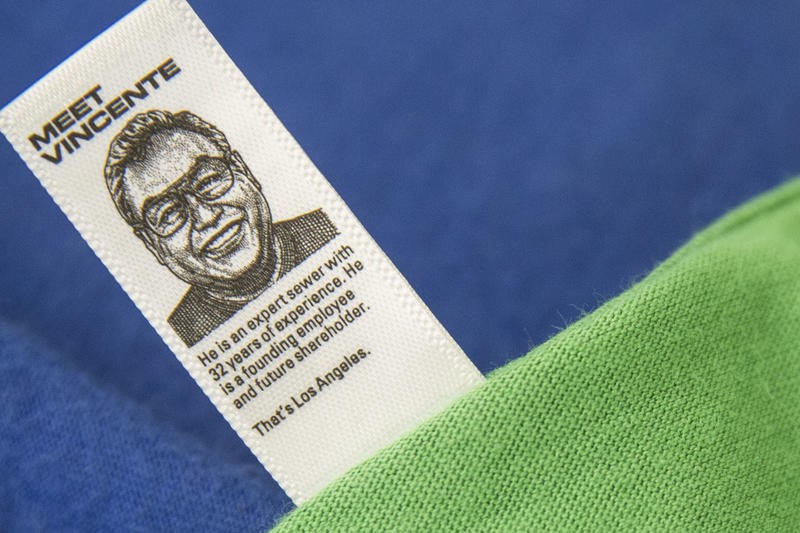 Conclusioni
Entrambe le ricerche evidenziano come le recensioni di altri consumatori abbiano un ruolo decisivo nelle nostre scelte di acquisto, soprattutto quando ben circostanziate e messe in evidenza. Le stesse, anche quando negative, possono essere per le aziende un'opportunità di confronto e crescita, a patto di utilizzarle strategicamente per migliorare servizi e prodotti offerti e creare delle relazioni di valore con i propri clienti.
[1] https://papers.ssrn.com/sol3/papers.cfm?abstract_id=3483429
[2] https://www.ama.org/2020/06/10/negative-reviews-positive-impact-consumer-empathetic-responding-to-unfair-word-of-mouth/